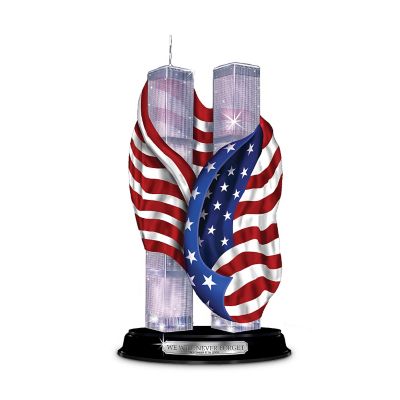 We Will Never Forget Sculpture Collection: Honoring The 10th Anniversary Of September 11th by The Bradford Exchange Online
On the morning of September 11, 2001 the Twin Towers fell, but out of that tragedy there arose a new America strengthened in spirit and firm in resolve. Now you can commemorate the 10th anniversary of that riveting national event with the We Will Never Forget Collection of finely crafted, dramatic sculptures that are illuminated for added beauty and drama. Beginning with Issue One, World Trade Center Tribute Towers, your collection will continue with Issue Two, Freedom's Light Endures and additional sculptures honoring the events and heroes of 9/11, each a separate issue to follow.‡Offered exclusively from The Bradford Exchange, Hawthorne Village Division, each sculpture in this collection captures a defining moment in the events of September the 11th, 2001 and the days thereafter. The Twin Towers sculpture that introduces this collection is handcrafted in crystal clear artist's resin and majestically mounted on a glossy black base with a silver-finish title plaque. Embracing the Towers is an elegant American flag of real fabric. With the flick of a switch, watch as the illumination of this Twin Towers sculpture changes from red to white to blue, to give this dramatic September 11 tribute a soft, reverent glow. This unique tribute collection takes on even greater meaning because a portion of the proceeds will be donated to support families of emergency responders who died in service. Heavy demand is expected for this landmark September 11th tribute collection to America's heroes, so don't wait! Order now!
Price: $
99.96
Condition:
new
Thank you for shopping with the Lovely Exchange, the best place to find unique gift ideas.