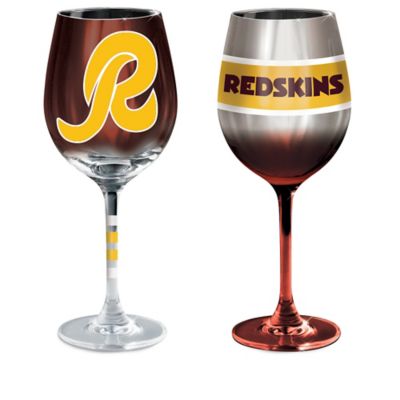 Washington Redskins NFL Wine Glass Collection by The Bradford Exchange Online
Washington Redskins fans are always ready to raise a toast to victory! Now, salute your team in style with this distinctive collection of Washington Redskins wine glasses, exclusively from The Bradford Exchange. Officially licensed by NFL Properties LLC, your Washington Redskins Wine Glass Collection arrives in sets of two, beginning with Issue One, Gridiron Stars. Soon, your collection will continue with Issue Two, Golden Victory and additional sets of two Redskins wine glasses, each set a separate issue to follow.‡Officially licensed by NFL Properties LLC, each wine glass in this collection is handcrafted in the tradition of fine European wine glasses for sophisticated style, then hand-polished and triple-fired for lasting beauty. Your Washington Redskins glassware features gleaming metallic finishes in the team colors of burgundy, white and gold, along with official team logos. Colored glass stems with the hues infused throughout add to the elegance. A winning addition to any table setting and a terrific NFL fan gift, this limited-edition collection is expected to spark heavy demand. Order now!
Price: $
59.99
Condition:
new
Thank you for shopping with the Lovely Exchange, the best place to find unique gift ideas.