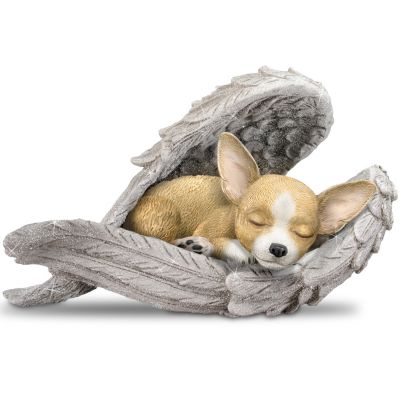 Figurine: Chihuahuas Leave Paw Prints On Our Hearts Figurine by The Bradford Exchange Online
An adorable Chihuahua is more than just a pet, it's a faithful friend and cherished family member that's heaven-sent! Now, celebrate the joy of loving a Chihuahua with a figurine that expresses the heartfelt blessings that your beloved canine friend brings. The exclusive Chihuahuas Leave Paw Prints On Our Hearts Figurine is a limited-edition treasure that any dog lover can feel good about, because The Hamilton Collection proudly supports the ASPCA's mission to save lives.Featuring an adorable sleeping dog curled up in angel wings, this figurine is masterfully handcrafted from the original sketches of acclaimed artist Blake Jensen. Artisans then paint every irresistible detail by hand, from the Chihuahua pup's peaceful expression and realistic "fur" to the glittery hand-etched angel wings that sparkle as brightly as your love for your pet. Strong demand is expected, so don't wait to bring this sleeping angel home – order now!
Price: $
29.99
Condition:
new
Thank you for shopping with the Lovely Exchange, the best place to find unique gift ideas.